One of Jill's strengths is her independent spirit, born out of past betrayals.
– Her father lied: "I'll quit drinking. I won't hit you again."
– Dave had promised there be no attempt for intimacy. He lied.
– Bill, her Christian friend, sided with Joseph, her ex-husband.
– Her sister ran away from leaving Jill to face her father alone.
– Jill's cousin, Julie, spied on her.
What is also true is for Jill to recover from her psychological scars, she needed someone's help.
To Whom Will She Turn?
Will They Be Successful?
Does the Review Help You with Your prediction?"
Title: Helping Hands
Author: Ken Saik
Publisher: iUniverse
ISBN: 987-1-5320-3873-0
Genre: Fiction / Romance
Reviewed by: Suzanne Gattis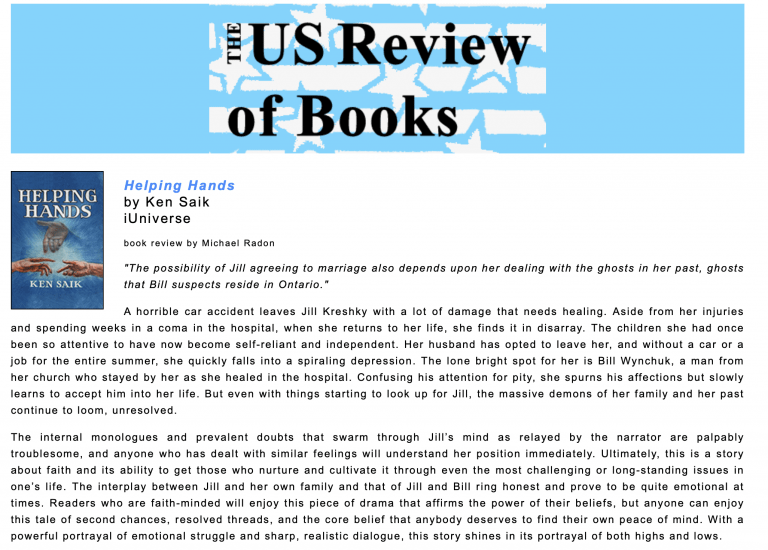 I found Helping Hands by Ken Saik to be an inspirational story of redemption, acceptance, faith, and love. Despite being a grown woman, it is almost a coming-of-age story for the main character, Jill, as she learns to live her life again after the tragedy of a divorce and severe accident. As a reader of this emotional story, you cheer her on as she gains acceptance of her past and eagerness for her future.
Major themes throughout the book consist of finding and offering forgiveness and allowing faith to guide the way. Much of this transformation is due to a very dear friend who plays an integral role from the start, Bill. I found that Bill has a quiet grace about him and I imagine him to be a very kind man. Based off his promptings, love and guidance, Jill is able to face her past, her present, and eventually her future. A chain of events is set in motion with Bill's help as a son forgives a mother, a girl forgives her father, and a woman forgives herself. The concept of faith is shown predominantly through prayer and contemplation throughout the book.
While by the end of the book you have a deep understand of Jill as character, I did find myself a little confused at the beginning, wondering if this book was part of a series. I understand that the author wanted to develop her throughout the story, and in fact appreciated the information that was added along the way, but I feel a little more of an introduction at the beginning would have been beneficial to me as a reader.
I believe the author was able to accomplish his goal by making the reader really cheer Jill on as a character. The story is inspiring to others who maybe have gotten a little off track and are trying to find themselves again. As friendship and then love develops, the book, for all the romantics out there, shows that love can not only be found again but also profoundly affect your life no matter what your age or circumstances.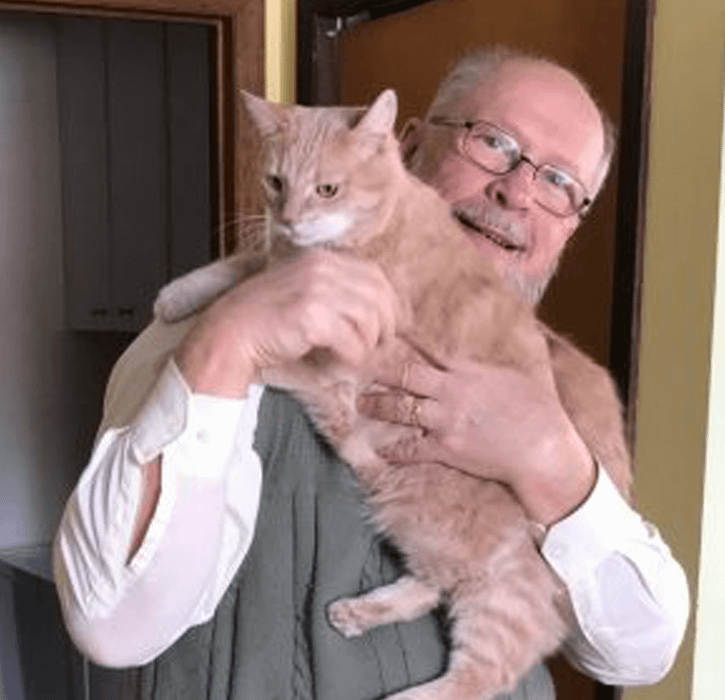 I hope you enjoyed reading Helping Hands. If you did , I would appreciate you posting a short review and sending me a copy. callingkensaik@gmail.com Perhaps you can write about what characters you most enjoyed? What did they do or say that was memorable? Thank you.